Amazon & Polar Explorer
on Marina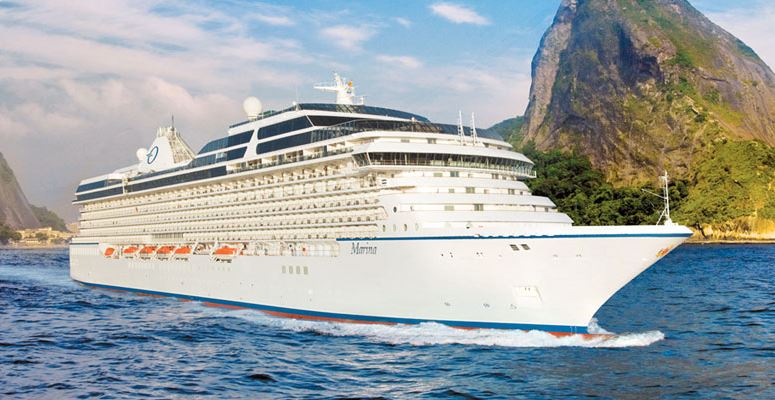 On this sweeping journey, you'll be immersed in the best of South America, from the lush Amazon and beaches of Brazil to the Chilean Fjords. You'll even have the rare opportunity to spend three days cruising the ice-clad islands and bays of Antarctica.

Formed in 2002 by luxury cruise industry veterans Frank Del Rio, Joe Watters and Bob Binder, Oceania Cruises is the world's largest upper premium cruise line. The Finest Cuisine at Sea
®
, Destination Specialists and Small & Luxurious Ships are the pillars that define Oceania Cruises' five-star product, positioning the line as the cruise company of choice for travelers seeking a truly refined and casually elegant travel experience.
Featuring a fleet of small, luxurious ships,
...
Cat. B2, OLife: Amenities, airfare from select gateways
| Day | Port | Arrive | Depart |
| --- | --- | --- | --- |
| 1 | Miami | | 6:00 PM |
| 2 | Cruising The Atlantic Ocean | | |
| 3 | Cruising The Atlantic Ocean | | |
| 4 | Philipsburg | 8:00 AM | 5:00 PM |
| 5 | Castries | 8:00 AM | 5:00 PM |
| 6 | Cruising The Atlantic Ocean | | |
| 7 | Cruising The Atlantic Ocean | | |
| 8 | Cruising The Amazon River | | |
| 9 | Santarem (Amazon River) | 10:00 AM | 7:00 PM |
| 10 | Parintins (Amazon River) | 7:00 AM | 5:00 PM |
| 11 | Manaus (Amazon River) | 9:00 AM | |
| 12 | Manaus (Amazon River) | | 5:00 PM |
| 13 | Cruising The Amazon River | | |
| 14 | Cruising The Amazon River | | |
| 15 | Cruising The Atlantic Ocean | | |
| 16 | Cruising The Atlantic Ocean | | |
| 17 | Recife | 8:00 AM | 7:00 PM |
| 18 | Maceio | 7:00 AM | 5:00 PM |
| 19 | Salvador | 9:00 AM | 6:00 PM |
| 20 | Cruising The Atlantic Ocean | | |
| 21 | Rio De Janeiro | 12:00 PM | |
| 22 | Rio De Janeiro | | 9:00 PM |
| 23 | Buzios | 8:00 AM | 6:00 PM |
| 24 | Ilha Grande | 8:00 AM | 7:00 PM |
| 25 | Parati | 7:00 AM | 6:00 PM |
| 26 | Sao Paulo (Santos) | 7:00 AM | 6:00 PM |
| 27 | Itajai | 8:00 AM | 6:00 PM |
| 28 | Cruising The Atlantic Ocean | | |
| 29 | Punta Del Este | 9:00 AM | 6:00 PM |
| 30 | Montevideo | 8:00 AM | 7:00 PM |
| 31 | Buenos Aires | 8:00 AM | |
| 32 | Buenos Aires | | 8:00 PM |
| 33 | Montevideo | 8:00 AM | 8:00 PM |
| 34 | Punta Del Este | 8:00 AM | 5:00 PM |
| 35 | Cruising The Atlantic Ocean | | |
| 36 | Puerto Madryn | 9:00 AM | 6:00 PM |
| 37 | Cruising The Atlantic Ocean | | |
| 38 | Port Stanley | 8:00 AM | 6:00 PM |
| 39 | Cruising The Atlantic Ocean | | |
| 40 | Cruising By Admiralty Bay | | |
| 41 | Cruising By Paradise Bay | | |
| 42 | Cruising By Half Moon Island | | |
| 43 | Cruising The Drake Passage | | |
| 44 | Ushuaia | 7:00 AM | 5:00 PM |
| 45 | Punta Arenas | 11:00 AM | 8:00 PM |
| 46 | Cruising The Chilean Fjords | | |
| 47 | Cruising The Chilean Fjords | | |
| 48 | Laguna San Rafael | 8:00 AM | 6:00 PM |
| 49 | Puerto Chacabuco | 7:00 AM | 5:00 PM |
| 50 | Puerto Montt | 10:00 AM | 7:00 PM |
| 51 | Cruising The Pacific Ocean | | |
| 52 | Santiago De Chile (San Antonio) | 6:00 AM | |